Associate Justice of the Supreme Court of the United States Ruth Bader Ginsburg, age 87, passed away this afternoon at home, Friday, September 18, due to complications of metastatic pancreatic cancer. Tragically, Ginsburg was the most liberal, pro-abortion justice on the high court, and her vacancy will likely intensify the cannibalistic news cycle and volatile political climate. At Texas Right to Life, we pray that Ginsburg accepted the Lord's kindness and mercy before her passing.
Since Bill Clinton nominated her in 1993, liberal activists praised her lifelong defense of unrestricted abortion, prioritizing abortion on demand as a defining cause in her career from her early work with the American Civil Liberties Union to her liberal activism on the Supreme Court. Her most notable cases included Stenberg v. Carhart (2000), a 5-4 decision striking down a Nebraska bill prohibiting the barbaric practice of partial-birth abortions on the 40th anniversary of Roe v. Wade (1973), and Whole Woman's Health v. Hellerstedt (2016), a 5-3 decision striking down a Texas law regulating abortion mills to protect women from unsanitary and noxious conditions like Kermit Gosnell's house of horrors.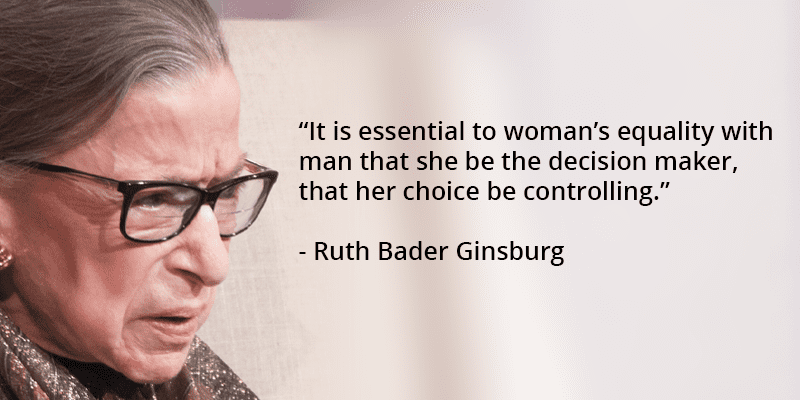 On September 9, President Trump released a new list of potential nominees for the high court, keeping his pledge to nominate strict constructionists similar to the mold of three justices appointed by other presidents: Scalia, who was nominated by Ronald Reagan; Clarence Thomas, nominated by George H.W. Bush; and Samuel Alito, nominated by George W. Bush.  His fourth list of nominees includes the following:
Justice Bridget Bade (U.S. Court of Appeals for the 9th Circuit)
Honorable Daniel Cameron (Attorney General of Kentucky)
Paul Clement (former Solicitor General of the United States)
United States Senator Tom Cotton (R-Arkansas)
United States Senator Ted Cruz (R-Texas)
Justice Stuart Kyle Duncan (U.S. Court of Appeals for the 5th Circuit)
Steven Engel (Office of Legal Counsel, U.S. Department of Justice)
Noel Francisco (former Solicitor General of the United States)
United States Senator Josh Hawley (R-Missouri)
Justice Greg Katsas (U.S. Court of Appeals for the District of Columbia Circuit)
Justice Barbara Lagoa (U.S. Court of Appeals for the 11th Circuit)
Christopher Landau (U.S. Ambassador to Mexico)
Justice Carlos Muñiz (Supreme Court of Florida)
Judge Martha Pacold (U.S. District Court for the Northern District of Illinois)
Justice Peter Phipps (U.S. Court of Appeals for the 3rd Circuit)
Judge Sarah Pitlyk (U.S. District Court for the Eastern District of Missouri)
Justice Allison Jones Rushing (U.S. Court of Appeals for the 4th Circuit)
Kate Todd (Deputy White House Counsel)
Justice Lawrence VanDyke (U.S. Court of Appeals for the 9th Circuit)
Justice Ginsburg's passing gives President Trump a historic opportunity to establish a majority on the Supreme Court who do not imagine a penumbra or right to abortion in the Constitution. A Pro-Life majority could impact active court cases like Texas' Dismemberment Abortion Ban and future cases dealing with the rights of hospitalized patients and the protection of preborn children. Unlike President Trump's previous nominees, Justices Neil Gorsuch and Brett Kavanaugh, who shared some ideological similarities with their predecessors, a Trump appointee for Ginsburg's seat would significantly shift the direction of the court.
All of us at Texas Right to Life pray that Justice Ginsburg's family find peace and comfort from our Father during their time of grief. Additionally, we pray for wisdom for President Trump and all those charged with vetting and confirming a justice who will follow the Constitution and protect the gift of Life.