A Washington, D.C., pregnancy resource center was vandalized over the weekend with graffiti made to appear like blood and the words, "Jane Says Revenge."
The vandals cast red paint on the front door of the pregnancy center to appear like flowing blood. The "revenge" threat is likely a reference to the pseudonym for the plaintiff "Jane Roe" of Roe v. Wade. What manner of revenge the vandals were threatening is unclear.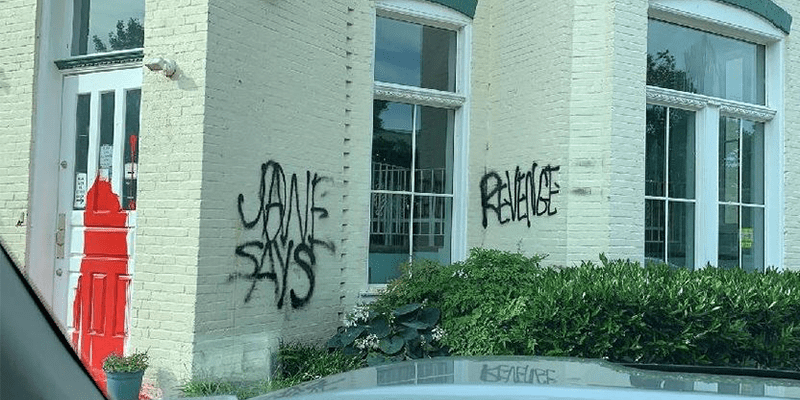 The attack on the D.C. faith-based pregnancy center comes as churches and Pro-Life groups are undergoing attacks across the country for their Pro-Life beliefs from abortion activists upset over the leaked Supreme Court draft opinion overturning Roe v. Wade.
The targeting of this D.C. pregnancy center comes after a string of other attacks including on churches in Seattle, Denver, Los Angeles, Houston, and New York, as well as pregnancy centers in Texas, Wisconsin, and elsewhere.
Multiple pro-abortion groups, including groups "Ruth Sent Us" and "Jane's Revenge," have explicitly condoned use of aggressive, violent tactics to advance their abortion agenda.
In a video statement, Jane's Revenge stated, "We have run thin on patience and mercy, we will adopt increasingly extreme tactics to maintain freedom over our own bodies."
Janet Durig, a spokeswoman for the D.C. pregnancy center, responded, saying, "It's sad that somebody feels they have to do this when we help so many people."
Pregnancy resource centers across the country offer financial, material, and other forms of aid, as well as resources to women and families in difficult pregnancy situations.
Join the pledge to pray for our country and an end to abortion:
Donate now to help defend Life>>