The Biden administration's Department of Veterans Affairs (VA) instructed its medical facilities across the nation to commit abortions Friday. The directive not only violates Pro-Life state policies, but also conflicts with federal law since the order, without approval from Congress, attempts to add an exception targeting children conceived in rape or incest.
Friday's order dictates:
"[The] VA is acting to help to ensure that, irrespective of what laws or policies States may impose, veterans… will be able to obtain abortions, if determined needed by a health care professional, when the life or the health of the pregnant veteran would be endangered if the pregnancy were carried to term or the pregnancy is the result of an act of rape or incest."
Every Pro-Life state already includes exceptions in the rare instances of medical complications, as does the 1992 Veterans Health Care Act. However, the federal law does not permit doctors to kill preborn children who were conceived in rape. The Biden administration's new declaration without Congressional approval thus does not have the authority to supersede state laws that protect children conceived in sexual assault.
As recently as August, the VA even agreed that federal law does not permit them to commit abortions. "Under current regulation, VA doesn't provide abortion or abortion counseling," its website stated from March 2021 through August 2022. However, even though the federal law has not changed, the Biden administration recently scrubbed this statement from their website.
August 12, 2022: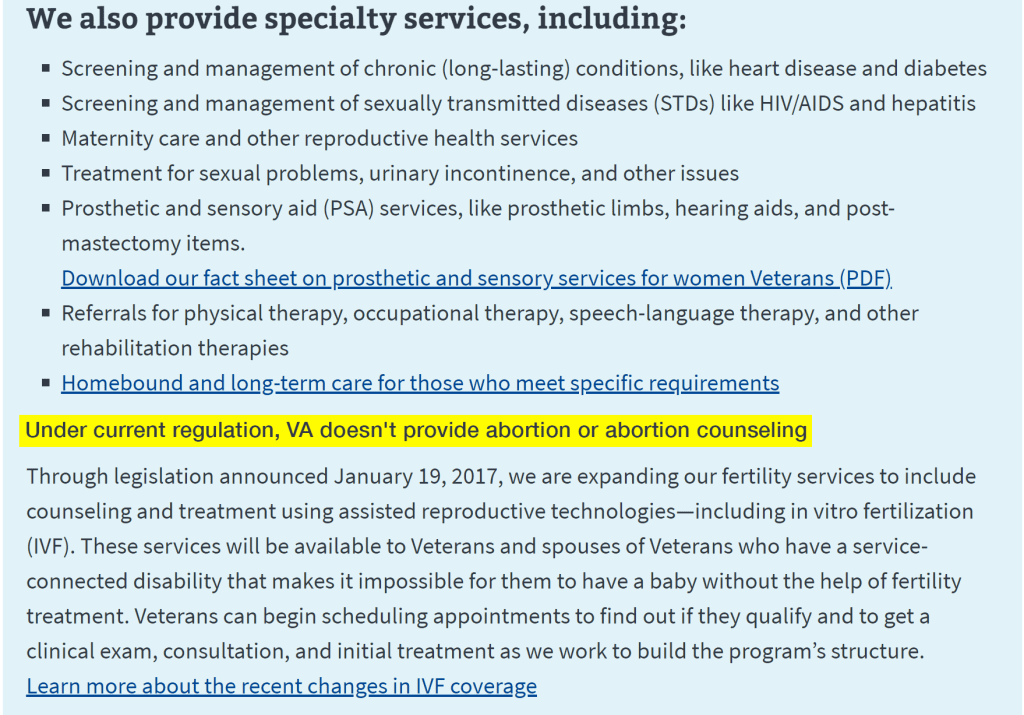 Biden's agenda to expand abortions in conflict with state law could put VA doctors at risk of losing their medical license and facing criminal penalties in Texas' Pro-Life laws.
Texas Right to Life President Dr. John Seago added:
"Every week Pro-Life states are facing new attempts from Joe Biden to contradict the recent historic ruling of the Supreme Court. The highest court in our country definitively asserted that each state should determine whether abortions are performed within their borders. In violation of Texas Pro-Life laws, the Biden administration is attempting to turn every VA into an abortion clinic. Veterans sacrifice so much to protect our God-given rights, the foremost of which is the Right to Life. Pregnant women deserve support, especially in the heartbreaking instances of sexual assault. Abortion is not health care; it harms our veterans and ends their children's lives."
Big Tech is censoring us. Sign up now for direct access to the best Pro-Life news: