A new report from the Texas Health and Human Services Commission (HHSC) confirms a substantial drop in abortions in September 2021 after implementation of the Texas Heartbeat Act. The state agency reported a total of 2,197 abortions in Texas, compared to just one month before, which had an astonishing 5,404 abortions committed.
The 2,197 abortions in September represents a 60% decrease in abortions.
Before the Texas Heartbeat Act, there were more than 160 abortions committed each day in Texas. In September, this plummeted to around 70 each day. Thus, the new report confirms Texas Right to Life's early estimations: The Texas Heartbeat Act saves around 100 babies each day from the horrors of abortion.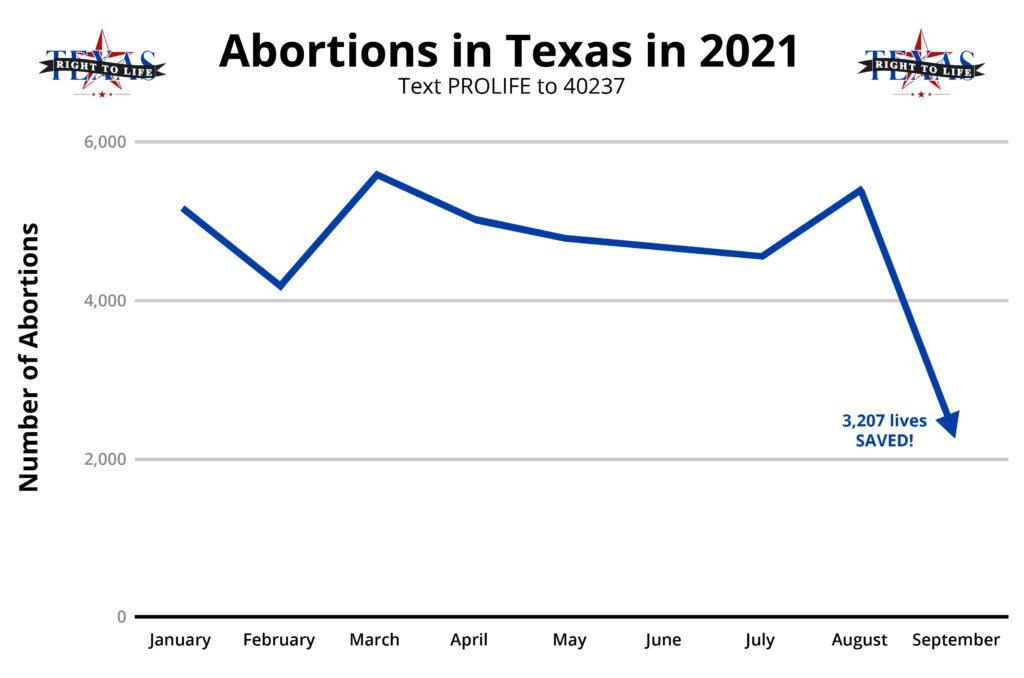 Texas Right to Life Director of Media and Communication Kimberlyn Schwartz responded:
"The success of the Texas Heartbeat Act is embodied by every child saved. For over 150 days, our work has saved an estimated 100 babies per day. Our impact is only just beginning as more states seek to replicate our success and as we look to the Mississippi case that could overturn Roe this summer."
Of the 2,197 abortions in September, only one is reported to have taken place between 17-20 weeks post-fertilization. HHSC verified this was a case where the life of the mother was in immediate danger. Notably, this was the only medically necessary abortion reported to have taken place in September.
Anti-Life critics of the Texas Heartbeat Act have been adamant that the new law will put women in danger, and that preventing them from receiving early abortions would require them to seek later abortions due to a medical emergency. On the other hand, some Pro-Life skeptics of the Texas Heartbeat Act asserted that abortionists would circumvent the law by carrying on business as usual and reporting everything as being a "medical emergency."
However, the actual data reveal both of these fears to be untrue. The fact that medically emergent abortions have not increased proves that they are not surging in necessity and that they are not being used as excuses.
Although some women may be traveling out of state to obtain abortion, those numbers are small and unconfirmed at this point.
Based on these figures, the law has likely saved 15,000 children since taking effect. Texas Right to Life will continue to track the abortion reporting data as they are released to see the long-term impact of the Texas Heartbeat Act. In the meantime, we celebrate the lives being spared as a direct result of this life-saving law!
Did you enjoy this article? Donate now to spread the Pro-Life message!