Today, 10 of the most radical anti-Life Democrats will take the debate stage in Houston, trying to convince America — and more importantly, Texas — to vote pro-abortion in 2020.
But the media and the Democratic Party want to hide the issue of abortion at all costs! They know their position is out-of-step with most Americans; that's why moderators didn't ask about abortion in the last debate, and other than crazy Kamala Harris, none of the candidates dared to bring up their stance.
Analysts agree that Democrats have a real chance at turning Texas blue. You must expose them now… before we're too late.
Thanks to your support thus far, Texas Right to Life will launch a Pro-Life billboard truck outside tonight's Houston debate.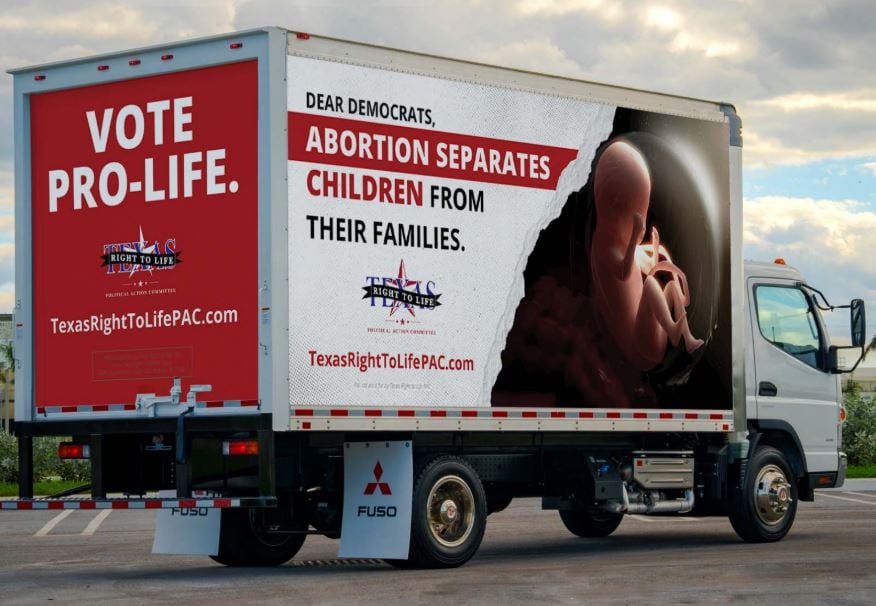 The message "Abortion separates children from their families" will make candidates and voters consider the issue, but only YOU can make them pick a side: Life or death. Biblical truth or anti-Life lies.
Your gift today can expose Democrats' abortion agenda.
The Democratic Party platform calls the decision to murder an innocent unborn child a "right," and every major candidate in the field supports totally unrestricted abortions until birth (sometimes even after birth!) with taxpayers like you footing the bill!!
And these Democrats are cunning. They know that only 6% of Americans agree with this rabidly anti-Life platform, so the mainstream media covering tonight's debate will do everything possible to hide and disguise the abortion holocaust.
You can expose the radical Left's anti-Life bias by supporting projects like this. Stand up to the big-money abortion business, and show Democrats that Texas will always stand for Life.
Pol. ad paid for by Texas Right to Life PAC.