Editor's note:
Sometimes it's easy to feel like the lone Pro-Lifer in a culture inundated by abortion mobs.
Last week, news broke about a leaked Supreme Court opinion indicating the reversal of Roe v. Wade. Immediately mass outrage erupted from the left. Riots and vandalism broke out and Hollywood celebrities from pop star Olivia Rodrigo to late night host Jimmy Fallon rushed to express their anger and support for the supposed "right to abortion."
The left's reaction to Supreme Court news exposed the true extent that abortion has become engrained into our culture. So much so that some even believe "the right to abortion is sacred."
Hollywood and the media try to bury the voices of any who disagree, anyone who believes Life is sacred and deserves protecting. But just because we're being censored and hidden doesn't mean we aren't there. In fact, the Pro-Life movement is growing. Everyday more people, students especially, are realizing the value of human Life.
Even if the Supreme Court overturns Roe v. Wade, the fight to defend Life is not over. Our culture needs to heal from grievous wounds inflicted by abortion. Pro-Lifers like Anna Voth and the Abilene Christian University Pro-Life club are fighting to sow love instead of violence and leading the charge to build a culture of Life!
***
At Abilene Christian University, our Pro-Life club, ACU for Life, is working hard every day to transform our culture and save lives.
Led by Texas Right to Life Fellows: Lily Perez, Megan Howard, Grayson Chapman, and myself, our Pro-Life club raised over $3,000 for our second-annual Pregnant and Parenting Student Scholarship, donated pregnancy supplies to the local pregnancy resource center, spent hundreds of hours engaging students in Pro-Life dialogue through our "tabling" events, and helped collect over 8,000 signatures to put Abilene's Sanctuary City for the Unborn ordinance on the Abilene City Council agenda.
The very first week of school we tabled at ACU's organization fair and spoke with dozens of new students about the Pro-Life movement. We kept up that energy all year, holding tabling events monthly in the campus center. Throughout the year we spoke with hundreds of students about Pro-Life issues and the immense value of human Life.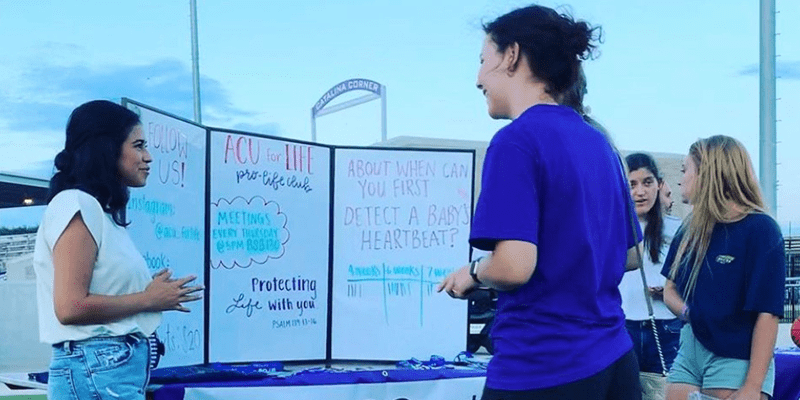 At chapel events, ACU for Life educated 30+ students weekly on Pro-Life issues including fetal development, legislation, disabilities, and the bible and their relation to the Pro-Life cause. Students also heard from the local pregnancy resource center and made over 20 blankets and wrote encouraging cards to give to the organization.
For the first time, ACU for Life took part in ACU "Missions Week" where students could see and pray for various local ministries. We highlighted our Pregnant and Parenting Student Scholarship and educated students about the ways our club helps pregnant and parenting students.
In the spring semester, ACU for Life partnered with other community organizations to help the city of Abilene collect over 8,000 signatures to make Abilene a Sanctuary City for the Unborn. Tragically, the city council cowardly refused to pass the ordinance. Yet, we collected so many signatures that the citizens of Abilene will be able to vote to pass this life-saving ordinance in November!
Vice President Megan Howard flew to Washington D.C. to attend the National March for Life, and member Megan Roos traveled to Austin for Texas' March for Life. Several members also represented ACU for Life at various marches and rallies throughout the school year.
Through volunteering, education, donation and community building, ACU for Life has made an incredible impact for the Pro-Life cause this school year. We are changing our culture and countering the toxic abortion propaganda. We are excited to continue building the Pro-Life generation on campus and beyond.
Join the pledge to pray for our nation and the end of abortion>>
Donate now to defend Life!