The popular card game Cards Against Humanity has decided to start committing actual crimes against humanity by funding the murder of innocent preborn children in the womb.
According to the game's website, "100% of profits from orders to forced-birth Republican hellholes will be donated to the National Network of Abortion Funds."
By placing orders on any of the website's products, customers who mark their home location in any Pro-Life state, including Texas, are notified their purchase will go toward the abortion industry's efforts to destroy human Life.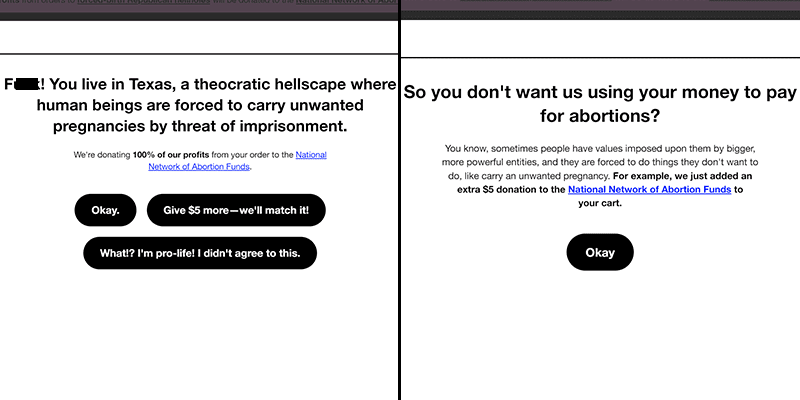 Texas customers are given the notification reading, "F—! You live in Texas, a theocratic hellscape where human beings are forced to carry unwanted pregnancies by threat of imprisonment." The website's inaccurate claims that Pro-Life states, including Texas, threaten pregnant mothers with imprisonment perpetuates abortion industry misinformation and is absurdly false on its face.
Not a single state with a total abortion ban punishes or threatens women seeking abortions. In Texas, where babies are protected from conception, criminal and civil charges may only be brought against the abortionist or those aiding and abetting in the murder of a preborn child.
If the customer objects they are given a notification that reads, "sometimes people have values imposed upon them by bigger, more powerful entities, and they are forced to do things they don't want to do, like carry an unwanted pregnancy." The website then claims to add an extra $5 for the abortion fund to the customer's purchase.
In another statement addressing "forced-birth Republican hellholes" the card game company states, "your state sucks … the Supreme Court overturned Roe v. Wade, and your state immediately turned itself into a dystopian forced-birth hellscape."
Cards Against Humanity's website has essentially been transformed into one prolonged, outraged screech to continue the killing of babies through abortion. 
Though the website's attempts to slam and shame Pro-Life states do nothing to contribute to the abortion debate in any meaningful way, their donations to abortion funds have tragic consequences for the preborn babies across the country brutally killed by abortion.
Pro-Lifers who prioritize the defense of human Life should steer clear of this game and their products. 
Donate to DEFEND Life >>