Gymnastics 2008 Olympic gold medalist Shawn Johnson East delighted her fans with exciting news shared on social media. She and her husband, Andrew East, are expecting their third child.
The couple, who already have two children, daughter Drew and son Jett, have experienced challenges on their journey of parenthood. Shawn revealed in a recent episode of their "Couple Things" podcast that they had gone through a miscarriage before conceiving their first child and suspect they experienced another miscarriage between Jett and the new baby, who is due in December.
The pregnancy revelation was not accompanied by any elaborate fanfare; instead, it was a typical, everyday moment.
Shawn told People, "[I] was just feeling off and took a pregnancy test. It was really nothing romantic or crazy like a YouTube video. And [I] told my husband literally three minutes later." Immediately, Andrew was "very excited."
In their pregnancy announcement video on Facebook, Andrew expressed his excitement, proclaiming, "Baby #3, comin' this way! Let's gooo!" He continued, "I'm definitely the most excited [between the two of us]. Kids are great! Who knew?"
Shawn added, "He loves babies. He's a phenomenal daddy and he is very excited. I'm definitely the more anxious one, just hoping everything goes smoothly."
During the same podcast episode, the couple discussed the possibility of this being Shawn's last pregnancy. At just 4 feet 11 inches tall, she humorously explained that Andrew "gives [her]very large babies that take a very large toll" on her body. Both Drew and Jett weighed over 9 pounds at birth.
"And I, if we are wanting more children after this, I'm so down. But I'm down for adopting," Shawn said.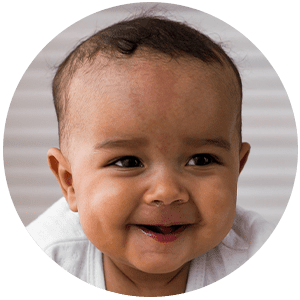 Don't miss awesome Pro-Life stories like this.
>> Get the Pro-Life Weekly Highlight just once a week:
Shawn's previous pregnancies resulted in C-sections, which had an impact on her well-being. Shawn reflected, "Three c-sections on my body [will have]taken a very large toll. And I think in just preserving my body as a mom, not selfishly, [but]being able to run around after my kids and stay healthy, I think even my OB would be like 'Three is a good number for C-sections. Let's maybe not go for a fourth C-section.'"
Shawn and Andrew's joy that they have shared with the world shows the beauty and goodness of welcoming new life!
Thank you for reading this story! If you support our Pro-Life mission, chip in with a life-saving gift today!