Texas is known as a leader in the Pro-Life movement, especially when it comes to our initiatives on college campuses.
After witnessing the abortion industry's aggressive agenda toward college women, Texas Right to Life attorney Emily Cook knew as a junior in college she needed to provide another option. Emily's Pro-Life club, Lumberjacks for Life at Stephen F. Austin State University, organized and funded the first scholarship for pregnant or parenting university students in 2009. The initiative not only offered much-needed financial help to students who chose Life, but also showed support and acceptance for students facing the challenges of caring for children while finishing their education.
Now, over a decade later, "pregnant and parenting scholarships" are provided by 16 Pro-Life college clubs in Texas thanks to the collaboration of students in Texas Right to Life's Dr. Joseph Graham Fellowship for College Pro-Life Leaders.
University of St. Thomas

University of Houston
Houston Christian (formerly Houston Baptist)
Texas A&M
St. Mary's
University of Texas – San Antonio
Texas A&M – Kingsville
Baylor
University of Texas – Austin
Texas Tech
Dallas Baptist
University of Dallas
University of Texas – Arlington
LeTourneau
Abilene Christian
Texas A&M International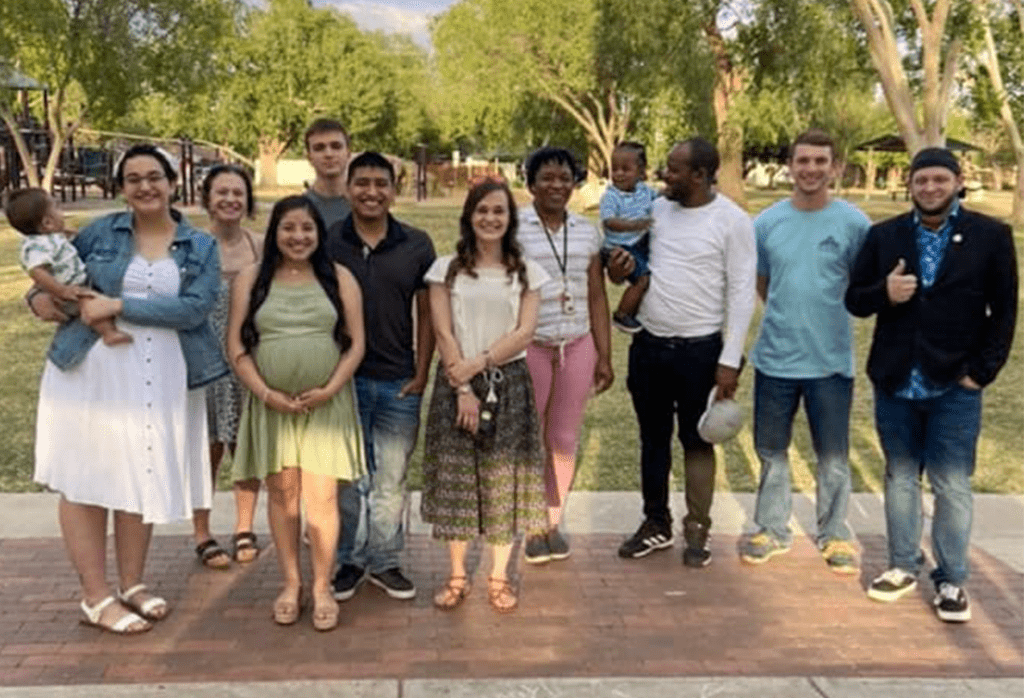 Pro-Life students raise money themselves through bake sales, profit shares at businesses, and special events like 5k races and clay shoots. The clubs advertise the scholarships on campus to ensure pregnant and parenting students know about the opportunity. They screen candidates through written applications or in-person interviews and award 1-4 scholarships to pregnant or parenting students each year.
This year, Texas Right to Life created a grant to match funds raised by the Pro-Life clubs for pregnant and parenting scholarships in order to encourage more groups to start the initiative if they have not yet or to expand their existing efforts.
We awarded grants to 12 Pro-Life clubs for their scholarship funds this semester, totaling $6,000 since September.
The abortion industry tries to convince women, especially students, that abortion is their only option. The result is that parents often feel trapped into abortion.
Texas Right to Life Dr. Joseph Graham Fellow Teresa Ripoll personally experienced the life-saving impact of a pregnant and parenting student scholarship in Texas.
Just after her 19th birthday, Teresa found out she was pregnant. Growing up in a conservative, Catholic home, she had always been Pro-Life, but being pregnant herself shook her. Blinded by shame and burdened by the weight of her sin, Teresa sought an abortion.
Teresa recalled, "I was two exits away from the abortion clinic and taking the first pill of a chemical abortion when a phone call of desperation completely changed my heart and my life."
Her sister and friend reminded her of the dignity of the life inside of her and the atrocity of abortion. "They reminded me of the immense support we would have from everyone around me," she continued.
"Thanks be to God, I turned the car around and chose Life for my daughter."
Teresa is now the president of Celts for Life at the University of St. Thomas in Houston.
"It is so incredible to have been a recipient of the scholarship while I was pregnant and now am able to award it to other students in need."
The scholarship empowers parents to choose Life for their children, building up a Culture of Life on campus and in the broader community.
The support and love Teresa received from the campus Pro-Life group transformed her heart and inspired her to live for something greater than herself.
"The work we do on our campuses and communities is vital," Teresa said, "because the abortion industry doggedly pursues pregnant college students. Even after the reversal of Roe v. Wade, there is still much work to do to create a culture that respects Life."
Texas Right to Life is grateful to our generous supporters who made the first pregnant and parenting student scholarship possible and who helped expand the initiative today through our matching grant.
Dear Reader:
Pro-abortion groups tripled their donations, but hundreds of Pro-Life donors have left the battlefield because they think the fight is over.
If everyone contributes just $10, we'll have the resources needed to continue saving lives. Will you step up with a life-saving gift today? >>