This week, House Democrats blocked H.R. 1233, a Republican led resolution condemning violence against churches, pregnancy resource centers, and Pro-Life groups.
Immediately following news of the Supreme Court's leaked draft indicating the reversal of Roe v. Wade, a continuous stream of violence, vandalism, and acts of intimidation were unleashed by abortion activists. The primary targets of these acts of terror has been pregnancy resource centers, churches, and Pro-Life groups.
With the Supreme Court of the United States' ultimate reversal of Roe in their Dobbs v. Jackson Whole Women's Health Organization decision, the violence and threats have erupted anew.
Scores of pregnancy resource centers, which offer free assistance and care to women and families, have been attacked and fire-bombed in Colorado, Washington, North Carolina, and beyond.
Churches, including multiple in Texas, have been trespassed, attacked, and vandalized for supporting the Right to Life.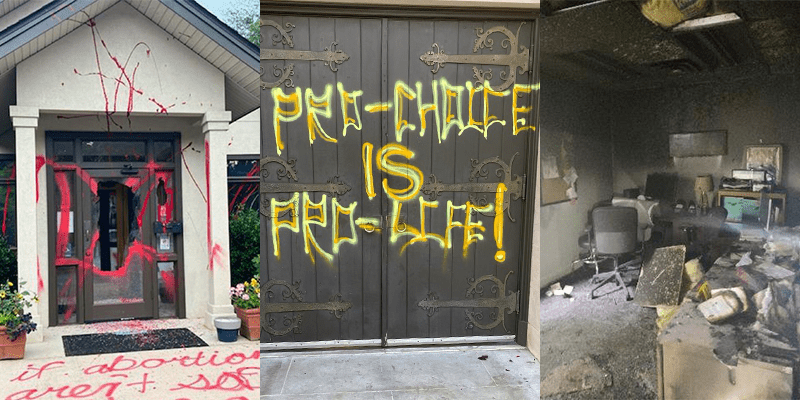 "Ever since the Dobbs decision, crisis pregnancy centers have been subjected to a nationwide spate of violence and vandalism, that has been met with silence from President Biden and Democrats. Enough is enough," stated the resolution's sponsor, Representative Mike Johnson (R-LA).
As explained by Representative Guy Reschenthaler (R-PA), the resolution called upon the Biden administration to "use all appropriate law enforcement authorities to uphold public safety and protect the rights of Pro-Life facilities, groups, and churches."
Despite continued abortion activist violence Democrats in the U.S. House of Representatives refused to allow the resolution to even be considered.
Why would federal Democrats refuse to "uphold public safety and protect the rights of Pro-Life facilities?"
The Democrat party has become so radically anti-Life that there is no limit to their abortion extremism. Last week the Democrats in the House rammed through legislation mandating states allow the killing of babies till birth. Yet not even unlimited abortion till birth is far enough for Democrats. Now, Democrats are actively fighting any group that seeks to offer women aid and assistance to choose Life.
Democrat Senator Elizabeth Warren recently stirred up controversy by going so far as to claim that pregnancy resource centers "torture pregnant people" and must be "shut down across the country."
If Warren or any anti-Life Democrat took the time to actually visit one of these pregnancy resource centers they would be shocked by what they find. They would find attentive and supportive staff giving of their time and talent to offer women and families resources, material aid, and opportunities for a bright future.
Yet, Democrats refuse to admit that pregnancy resource centers offer women and families true choices and support. Instead, Democrats are turning a blind eye to the violence against these centers simply because they do not pressure women to have their babies brutally killed through abortion.
With Roe finally reversed, Pro-Lifers have the opportunity to save millions of lives and offer women and families true care that does not involve the destruction of Life.
In Texas, where pre-Roe statutes and soon the Texas Trigger Ban defend Life from conception, Pro-Lifers can further empower mothers to choose Life by expanding care through the state's network of pregnancy resource centers.
Texas Right to Life is the single greatest ally to pregnancy resource centers in the state. Our continued efforts to expand funding to the Alternatives to Abortion program raised funding to $100 million for these centers throughout Texas.
Entering the post-Roe era one of Texas Right to Life's major goals is to greatly expand the state's funding of these life-saving centers so that no woman or family is pressured to kill their preborn child through abortion.
Help us continue the fight to defend Life! >>