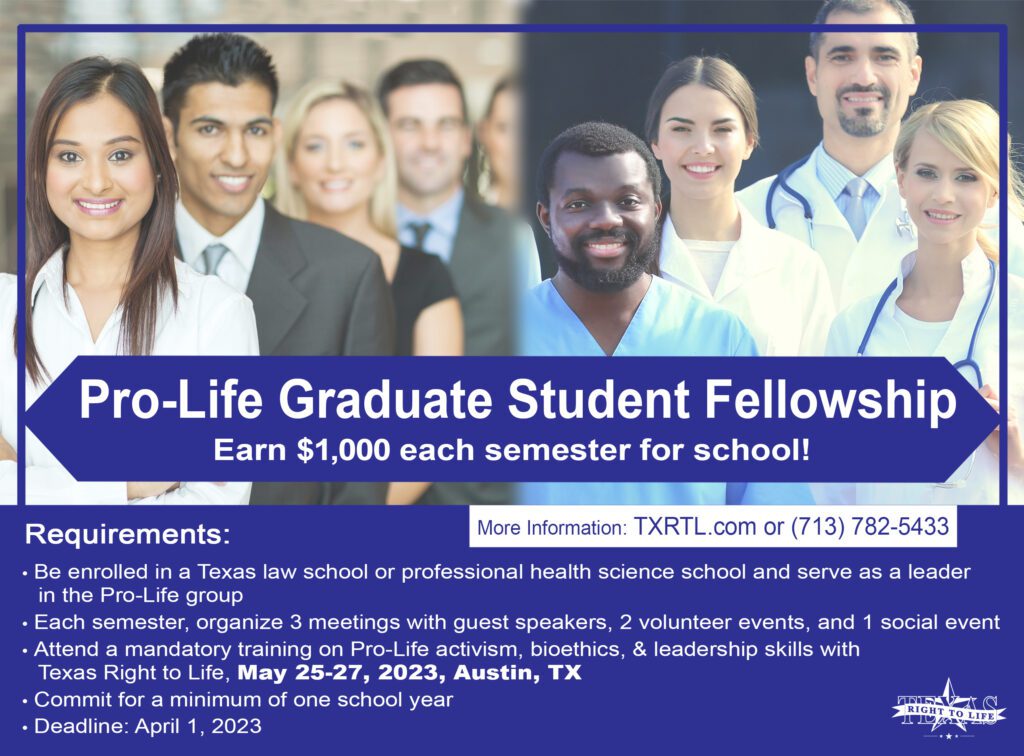 Pro-Life Healthcare and Law School Fellowship
Earn $1,000 Each Semester
Dr. Joseph Witherspoon Pro-Life Law Student Fellowship &
Dr. Edward Hannigan Pro-Life Health Professional Student Fellowship
We know that you want to be an effective Pro-Life advocate in law school or health science school. In order to do that, you need to lead Pro-Life events at your school. Maybe you don't know how, which can cause you to feel disorganized, stressed, or alone. Maybe you're already leading a Pro-Life group, but you want more effective ways to spread the message to your peers. We believe that you deserve to become an expert Pro-Life leader. We understand how complicated it can be for students to share their Pro-Life beliefs, which is why we have trained over 300 undergraduate Fellows and almost 100 graduate Fellows in Texas since 2008 to successfully lead Pro-Life groups and spread the Pro-Life message to their peers. Apply now for the Fellowship, and stand up for life.
Scholarships are available for law students, and professional health science students (such as medical, nursing, occupational, and more) who are willing to establish a Pro-Life organization, attend our mandatory training, and host Pro-Life speakers and events at their Texas school. Individual recipients earn $1000 per semester. Recipients are capped at two scholarship recipients per campus.
Requirements:
Be enrolled in a Texas law school or professional health science school.
Serve as a leader in a Pro-Life group established at the school.  If no current group exists, form one.
Attend an all-expense paid mandatory in-person training in bioethics and leadership skills with Texas Right to Life, May 25-27, 2023.
Location: Texas Right to Life office in Austin, TX.
View sample schedule here.
Each semester, organize 3 meetings with guest speakers. Texas Right to Life will pay up to $8 per person for catering, for 3 separate lunch lectures, after receipts are submitted for reimbursement.
Host one social event each semester to recruit and maintain membership.
Organize a volunteer opportunity for the group each semester with a Pro-Life organization approved by Texas Right to Life in the community.
Write one article, at any point during the academic year, to be published by Texas Right to Life.
Identify a new leader of the group before the end of your term.
Commit for a minimum of one school year.
Deadline to apply: April 1, 2023.
All students selected as Fellowship recipients will be required to sign our Statement of Faith and Standards of Conduct. Texas Right to Life is a statewide, non-partisan, Christian organization, and all of our board members, officers, staff, and representatives, including students in our scholarship programs, are held to a behavioral and ethical code of conduct that reflects one committed to living a Christ-centered life. Our scholarship application is designed to further implement the corporate values of Texas Right to Life.
The mandatory training will prepare you to:
lead a Pro-Life group on campus,
plan successful events,
defend your beliefs against abortion and euthanasia,
become "the" Pro-Life expert and speaker in your specific field of law or healthcare,
become an expert witness in the Capitol who can testify for or against important legislation, and lobby legislators accordingly,
give you the confidence to stand up against possible discrimination,
network with like-minded healthcare professionals and attorneys who have your back.
The selection process entails an application, pre-training interviews, and an exit interview at the end of the training. Scholarship recipients are required to attend a training with Texas Right to Life at which time a $250 stipend will be issued. Following completion of the scholarship requirements in the fall semester, the remaining $750 of the scholarship will be provided. In the spring semester, two disbursements of $500 will be provided. Texas Right to Life assists and mentors students who receive the scholarship.
You will be notified by April 24, 2023 by email regarding whether or not you've been selected as a Fellowship recipient for the Fall 2023 Semester.
For questions, contact Fellowship@TXRTL.com or 713-782-5433.
——–