Boots On The Ground
January 28, 2017 @ 10:00 am

-

January 29, 2017 @ 2:30 pm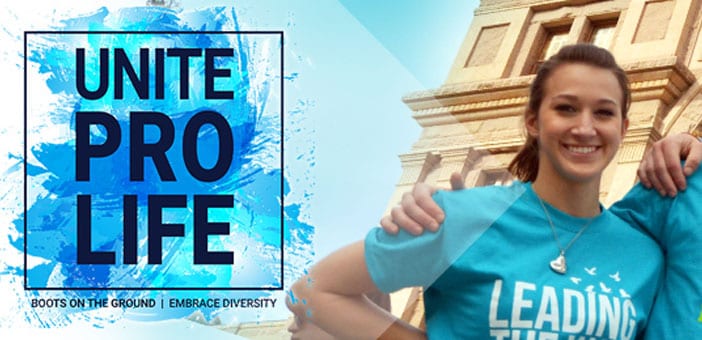 WHAT: PRO-LIFE CONFERENCE FOR COLLEGE STUDENTS.
WHEN: SATURDAY, JANUARY 28 – SUNDAY, JANUARY 29 2017.
WHERE: UNIVERSITY OF TEXAS AT AUSTIN.
WHY: TO EMBRACE DIVERSITY AMONG PEOPLE OF ALL BACKGROUNDS, POLITICAL PARTIES, FAITHS, OR NO FAITH, AND UNITE PRO-LIFE TO MAKE ABORTION UNTHINKABLE.
#BOTG2017    #UniteProLife    #MakeAbortionUnthinkable
Boots on the Ground Conference is an opportunity to become a more effective Pro-Life student leader on your campus, learn from state and national Pro-Life leaders about important topics, and meet Pro-Life students from across Texas.  In addition to learning Pro-Life ethics and leadership, attendees will have a chance to march at the Texas Capitol with thousands of others in commemoration of the 43rd Roe v. Wade anniversary.
This year's Boots on the Ground Conference focuses on uniting diverse groups on one common cause: to make abortion unthinkable.  Speakers will represent African-American groups, Hispanics, LGBTQ, feminists, Catholics, Lutherans, Evangelicals, secularists, various political parties, and more. All groups are coming together to help women, to respect the dignity of life, and to promote equal rights to life for ALL human beings.
Hosted by: Texas Students for Life at the University of Texas