Last week the Winter Olympics kicked off in Beijing, the capital city of China, despite well-known grievous human rights violations by the Chinese Communist Party (CCP).
With decades' worth of well-documented cases of widespread abuse and cruelty instigated by the CCP, one has to ask; "why are the Olympics being held in China?"
Though the Olympic Games have a long history of bringing nations together in a spirit of peace, the 2022 Winter Olympics is a weak attempt to overlook the ongoing cruelty of a government against their own people.
China is a nation of fear, in which citizens will disappear and whole populations, such as the Uyghurs in Xinjiang, are targeted for genocide.
This year's games are shrouded by an eerie sense of inhumanity that is more than the hazmat suited bartenders and robots. The eeriness comes from the shared attempt by the CCP, International Olympic Committee (IOC), and the media to portray a happy sporting competition amidst a backdrop of barbaric violence and bloody genocide.
Though China now faces an oncoming demographic winter, the nation's strictly enforced "one-child policy" resulted in well-documented instances of Chinese officials dragging women out of their homes to forcibly commit abortions and sterilizations.
Recent years have revealed the existence of CCP run mass internment camps for the Uyghur population in Xinjiang, the far western province of China. Human rights groups around the world and firsthand testimonies from escaped internees have revealed the intense abuse of millions of Uyghurs on the scale and style of Nazi-Germany concentration camps.
Torture, rape, and forced birth control and abortions are reportedly commonplace within these horrific camps.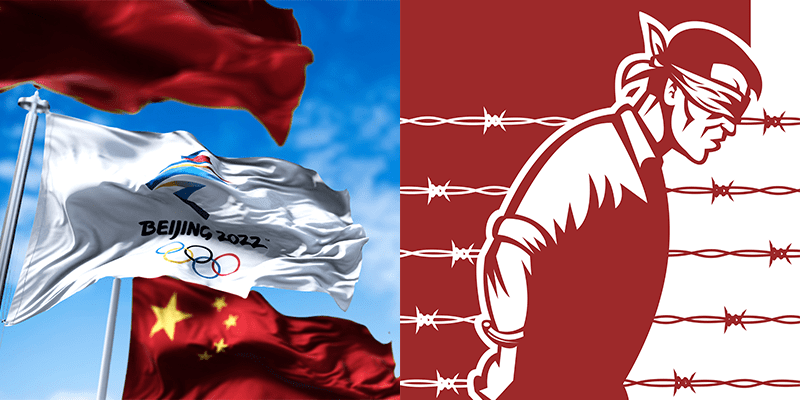 In her testimony to a people's tribunal in London in 2021, Bumeryem Rozi, an escaped Uyghur related her traumatic experience of being rounded up, along with a group of other pregnant women, to un-willfully have their children aborted. For Bumeryem the abortion was committed at about 6 ½ months.
Yet, the CCP accepts no responsibility for these human rights violations. China characterizes the camps as "vocational training centers."
"There is no such thing as genocide or forced labor in Xinjiang," a CCP spokesperson has asserted.
Amid these diabolical crimes against humanity, Americans should be asking, "why is the U.S., the IOC, and the media complacent in the CCP's cover-up?"
The answer is that our own violation of human rights in the form of legalized abortion has blinded us. Since legalization, abortion has murdered over 63 million innocent preborn children. This American genocide has desensitized us to the necessity to protect the Sanctity of Human Life.
As Pro-Lifers we must never be complacent. We must actively combat every instance of violence against the innocent and vulnerable. We must never look the other way or ignore violence against the innocent, whether that be through abortion, euthanasia, or, as in this case, the CCP's ongoing genocide against their own people.
Find this article helpful? Help us keep spreading the Pro-Life message by donating today!