The Texas Right to Life Ambassador Program is a volunteer initiative for individuals across Texas who have a passion for boldly promoting Pro-Life principles and values in their communities.  Our Ambassadors harness the resources and programs offered by Texas Right to Life to make a difference in their local communities. 
In Collin County, local Pro-Lifers have an opportunity for meaningful activism this fall! Texas Right to Life's Ambassador for Collin County, Chris Towne, is spearheading the national 40 Days for Life prayer vigil outside the local abortion mill in Plano. To kick off these 40 days of 
prayer to end abortion, join Chris and Texas Right to Life at a kickoff event on September 21!
The event will feature a showing of October Baby, a local motivational speaker, and light refreshments. 
40 Days for Life is a 1,000,000 volunteer strong movement that recruits volunteers to pray outside local abortion clinics for 40 days. To date, the project has saved 16,004 babies, converted 190 abortion workers, and closed 100 clinics through prayer and fasting.
Kickoff Event
Saturday, September 21
Haggard Park, beside the Art Center of Plano
901 E 15th St., Plano, TX, 75074
6:30 Message, 7:30 Movie in the Park
40 Days for Life
September 25 – November 3
Chris Towne
469-343-6956
Share the flyer with your friends, family, and church groups!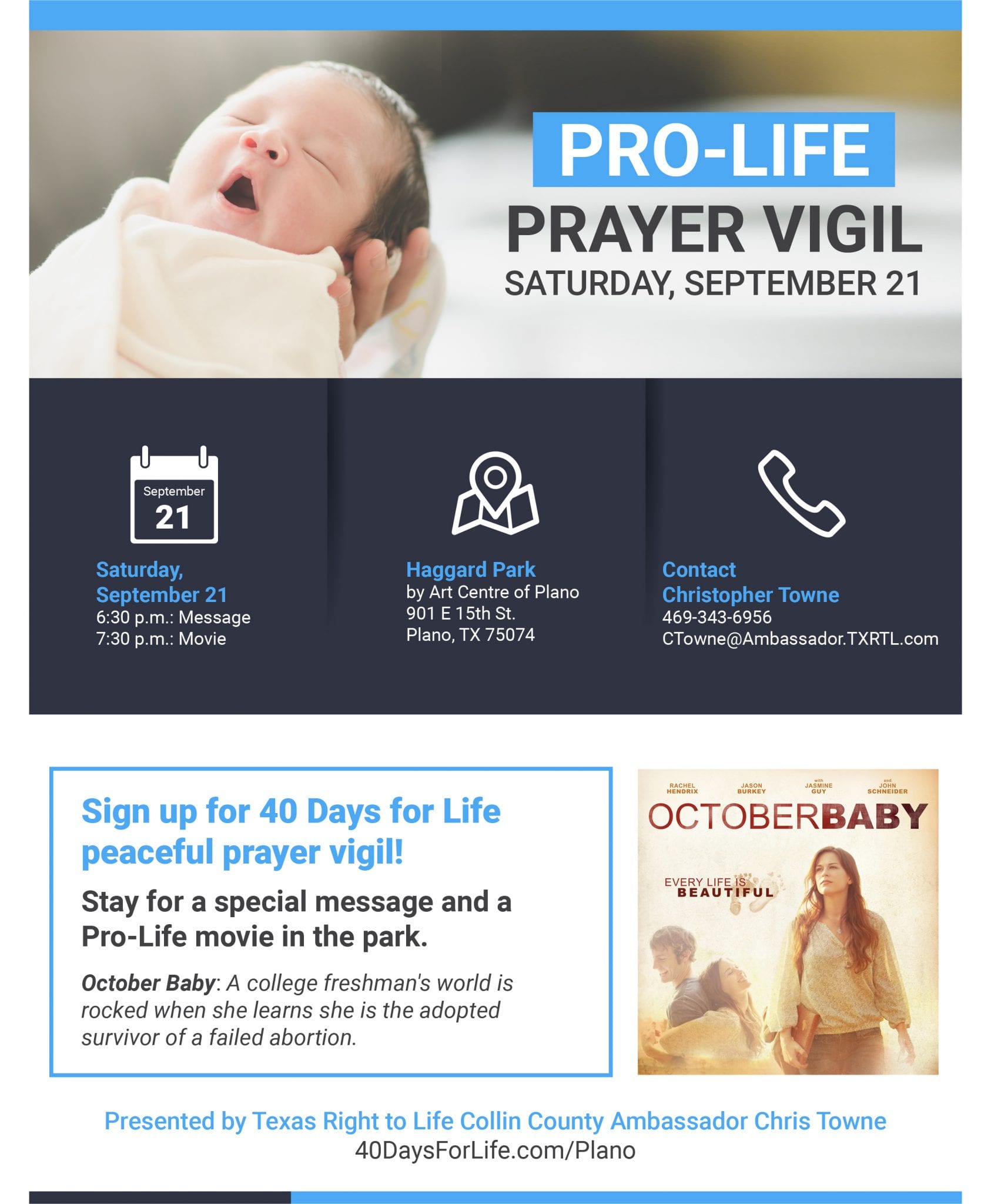 Fight fake news! Deliver the Pro-Life truth to 10,000 people by sponsoring an article like this one.