The landmark case Roe v. Wade has been a judicial and cultural flashpoint that causes intense legal and moral debate around the world.
Roe specifically challenged Texas abortion laws. In its majority opinion fifty years ago, the Supreme Court of the United States (SCOTUS) declared the Texas law prohibiting abortion unconstitutional by inventing a constitutional right to abortion. But the precise ramifications of Roe on the Texas law it enjoined are still disputed and continue to be debated by experts in constitutional law.
Perhaps no court decision is more famous and less understood than Roe v. Wade. For much of the public, Roe is an enigma that floats hazily beneath the surface of comprehension. While almost everyone has heard of Roe, most cannot define its contours or even articulate the case's subject matter. Some believe the decision is about school desegregation; others think it addresses the environment. And for those who do connect Roe to abortion, what the decision actually entails remains a confounding mystery.
For those more familiar with the decision, Roe's existence and immediate implications are not contested. In 1973, SCOTUS found abortion to be a constitutional right and, in so doing, toppled the Pro-Life laws of nearly every state in the union. Abortion bans—or even trivial regulations, for that matter—could no longer be enforced by public officials.
SCOTUS modified Roe in later cases, allowing states to start chipping away at legalized abortion. Nevertheless, abortion still remains legal throughout the country. Only now are states finding creative ways to circumvent SCOTUS' worst ruling in our nation's history.
But what happened to the Texas law that SCOTUS ruled unconstitutional in 1973? And what's the status of the numerous Pro-Life laws across the country that were rendered unenforceable by Roe v. Wade?
State Representative Briscoe Cain (R-Deer Park) wants to clarify that SCOTUS' actions were narrow—that all the court did was enjoin the state from enforcing the very specific section of law that prohibited elective abortions.
According to Cain, SCOTUS did not strike down the several sections of law in question themselves, which still exist on the books and some may still be enforced in the future. His point? Cain is asserting that other sections of the law that were not in question remain enforceable today.
Cain, an active Pro-Life attorney himself, cites logic found in a Virginia Law Review article by Jonathan F. Mitchell, former Texas Solicitor General. In the article, titled "The Writ of Erasure Fallacy," Mitchell contends that courts do not enjoy the authority to erase statutes established by the democratic branches of government but rather resolve conflicts between the parties before them. Therefore, a court may block one party from taking action—say, charging a person with a crime—but it does not bulldoze the underlying law or laws in question in the court case. According to Mitchell and Cain, this remains true under Roe. SCOTUS may have blocked Texas from charging and arresting abortionists, but there are two important legal clarifications. First, the law establishing elective abortion as a crime has not gone anywhere; and second, other sections of the Pro-Life law in question were not specifically enjoined.
This aspect of Cain's argument shouldn't be too contentious. Just last December, SCOTUS recognized that "a federal court exercising its equitable authority may enjoin named defendants from taking specified unlawful actions" and no more. Laws don't just disappear. Courts have blocked various pieces of Texas' Pro-Life legislative array—and these pieces haven't vanished into the ether. These laws and others might be currently neutered by an injunction, but a future court ruling could fully reanimate them.
Cain does not stop there. He asserts that other aspects of Texas' pre-Roe Pro-Life law remain enforceable since they are severable from the part of the law that SCOTUS enjoined. Specifically, Cain points to the provision imposing criminal liability on anyone "who furnishes the means for procuring an abortion knowing the purpose intended." This observation led him to send a cease-and-desist letter to abortion funds and the bank Citigroup, which pay for the abortions committed by others, as well as abortion-adjacent costs such as travel. Even though government officials cannot charge abortionists under Roe, those who abet an abortion are not so protected because SCOTUS did not enjoin the "furnishing the means" section of the law.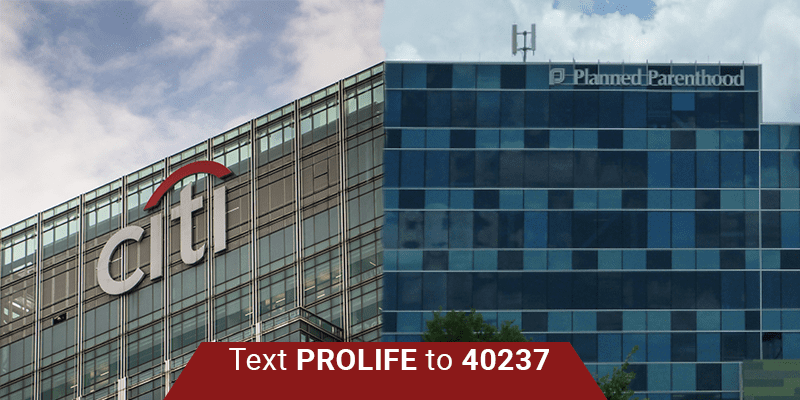 The abortion funds did not appreciate the heads up. In his cease-and-desist letters, Cain claimed the abortion funds were committing "criminal acts" because they are financially abetting abortions. The abortion funds rejected that characterization because the pre-Roe laws related to abortion are "void and of no effect." They also threatened to sue him for defamation.
Cain rebuffed. "If you and your clients want to adhere to your delusional belief that article 4512.2 no longer exists as the law of Texas, then we welcome the opportunity to have the judiciary set you straight."
Abortion funds exist to enable the destruction of innocent human Life. Cain's accusation that the abortion funds are engaging in criminal behavior is a threat to their very existence. Whether a court might agree with Cain is an intriguing legal question.
Does the state have the right to enforce a currently valid law that has never been enjoined by the courts? Is the fabricated constitutional right to an abortion so sacred that even untouched state laws can be thwarted? Thus far, the abortion funds haven't offered much of an answer.
Elective abortion is, of course, an ethical and legal abomination. No such right exists in the United States Constitution or the moral law. But courts have nonetheless inserted themselves into the debate. SCOTUS will hopefully rectify that error later this summer. Until then, Representative Briscoe Cain wants to stop that unwarranted trespassing from going further.
Big Tech is censoring us on social media. Sign up now for direct access to the best Pro-Life news:
Donate to power the Pro-Life movement in Texas!