Chris Dunn, who fought Somali pirates and served in the Harris County Sheriff's Office and the Department of Homeland Security, was admitted to the hospital in October 2015 for uncontrolled vomiting.  A mass was discovered on his pancreas. Doctors stabilized him, and he was intubated despite being able to breathe. He was fully conscious and responsive.
A week later, the hospital gave Chris and his mother, Evelyn, a last-minute notice that the hospital would convene an "ethics committee" meeting.  Evelyn, without enough time to seek legal help, nervously entered the meeting room full of 25 strangers, only one of whom had ever treated Chris.
Evelyn was blindsided to discover that this meeting was to discuss pulling the plug – and she was not allowed to speak in her son's defense.  The committee deemed Chris's life was no longer worth living – despite Chris's plea to live – and they scheduled him to die a few days before Thanksgiving.  
Luckily, Evelyn contacted Texas Right to Life for help.  Texas Right to Life's lawyers secured more time through the courts, and worked with Evelyn to launch the mass media campaign "Help Chris See Christmas."
This viral video shows Chris praying to stay alive.
https://youtu.be/3pT8hOQ2WSU
As Evelyn fought the 10-Day Rule, the hospital attempted to seize guardianship, taking away what little decision-making power the law granted her.
Chris passed away naturally on December 23, 2015 – two days before Christmas.  Evelyn's heartbreak motivates her to end the horrible 10-Day Rule that victimized her son.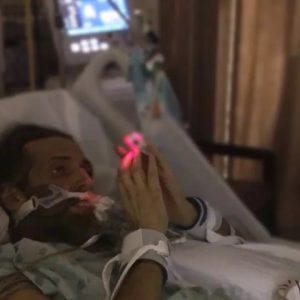 The Texas 10-Day Rule allows hospitals to pull the plug on patients against their will – a form of involuntary euthanasia.  Senate Bill 2089 by Senator Bryan Hughes (R-Mineola) would have protected these Texans from the 10-Day Rule in the Texas Advance Directives Act.  
Vulnerable patients need your help to survive the deadly 10-Day Rule.  They may have no fighting chance without you.  Give today to the Texas Right to Life Family Assistance Fund to protect patients from death panels.