In the first legislative session after the fall of Roe v. Wade, the Pro-Life movement has more work than ever to accomplish.
This includes:
🔵 Fully enforcing our Pro-Life laws;
🔵 Building a truly Pro-Life Texas; and
🔵 Restoring Pro-Life values in healthcare.
At the same time, we must prevent pro-abortion forces from gaining any footholds and stop all harmful bills or amendments from advancing through the legislative process.
Our elected officials have just a few weeks left to accomplish these crucial life-saving goals.
So far we have…
✅ Stopped pro-abortion efforts to add exceptions to our strong Pro-Life laws;
✅ Increased funding for pregnancy centers and adoption agencies to $225 million through the Alternatives to Abortion program; and
✅ Made progress on bills to help pregnant and parenting college students.
But this is NOT enough. We cannot be satisfied if we only end the legislative session at the same status as when it began.
We still have major goals to accomplish to stop illegal abortions, help pregnant mothers, and defend vulnerable patients.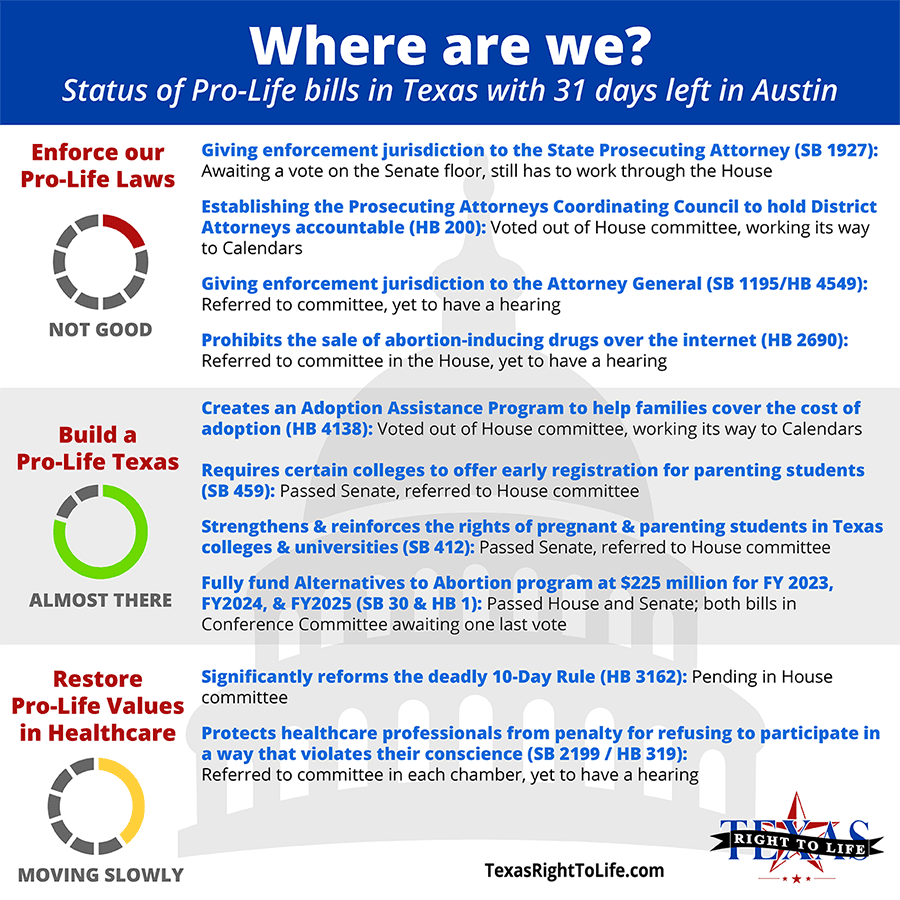 In a state as Pro-Life as Texas, we will not settle for merely playing defense.
The last 31 days of session are the final push to defeat bad legislation and ensure strong bills become law. We cannot allow abortion groups to continue mailing illegal abortion pills or permit liberal district attorneys to ignore our laws.
Please pray that lawmakers will have wisdom and courage to make the most of this historic opportunity to protect Life in Texas.
And please pray for our full-time legislative team as we work in the Capitol testifying, lobbying, and working directly with our legislators to save lives!
Thank you for standing for Life!
If you support our mission, give a life-saving donation today!