Men are very often told, "not your body, not your choice," and that their opinions don't matter when it comes to abortion. I'm here to tell you that is wrong.  
My name is Kaden Harman and I am a Texas Right to Life Fellow and the president of Lumberjacks for Life (LFL), the Pro-Life club at my school, Stephen F. Austin University. 
When I first joined the Lumberjacks for Life, I was the only male member of the club. I was very disturbed that most of the male students I spoke with on campus were disinterested or felt like the abortion issue wasn't their fight.
Sadly this is something that is very common with abortion. By pretending that abortion is just a "women's rights" issue, the abortion industry and the media pushes men aside, making them believe they have no say in whether preborn babies should live or die.
When I became president of Lumberjacks for Life, I made it one of my major goals to recruit more men to the group. Don't get me wrong, I absolutely agree that women are crucial to the Pro-Life movement. But when men abandon our responsibility to protect and defend the innocent and vulnerable, the result is what we have today, over 60 million innocent preborn babies killed by abortion. When both men and women stand up together for Life, we make a major difference.
Every year Lumberjacks for Life raises funds to spread the Pro-Life message on campus and to help pregnant and parenting students in need. This year our goal was to raise $3,000. As we prayed for God to guide us in meeting our goal we decided to try something our club hadn't done in over 10 years, a Sanctity of Life Fundraising Banquet. We all eagerly set to work, approaching local businesses and individuals around the community, engaging with them about the Pro-Life issue and asking for their support. There was a lot of work to be done and each of us held a very heavy workload advocating for Life along with keeping up with our studies.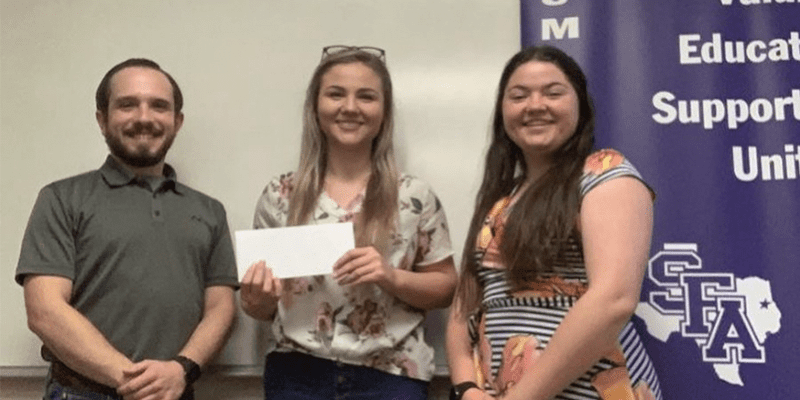 Just a few short weeks out from the big event, our plans and hard work seemed to be unraveling. Our caterer suddenly dropped out and our keynote speaker's house tragically burned to the ground. The night before the RSVP deadline, less than half of our seats were reserved. We were all very stressed and worried our efforts to help parents would come to nothing. We were seeing firsthand how the devil tries everything in his power to stop efforts to defend Life. Yet, we entrusted everything to God and kept working our hardest, keeping faith that God would guide us. We knew that God is so good and He would provide the victory.
In the final two weeks before the event, everything fell into place. We were able to fill all our seats and a family of caterers offered to make the meal free of charge so that all LFL had to do was purchase the ingredients. Best of all, our speaker, Mr. James Steward, was still able to make the event and gave a truly moving address. After all the donations were gathered at the end of the evening, we found that we had raised $10,000, over triple our original goal! Not only did we exceed our fundraising goal, but we established relationships with community members who will continue to support us in the coming years.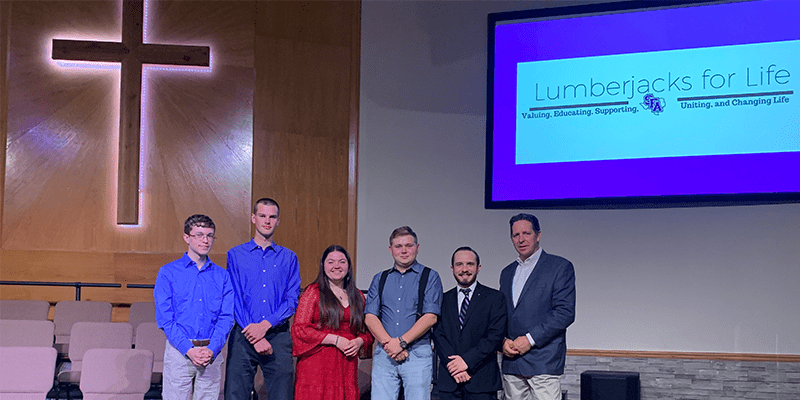 Our efforts to protect the weak and build a Culture of Life were a massive success this year. We even recruited many new members and I am excited that not only have we had more Pro-Life men join the group, but two men volunteered to help lead in officer positions in LFL. It was amazing to see how God moved through Lumberjacks for Life to accomplish His good work. I truly look forward to seeing everything that LFL will accomplish in the coming years.
Thank you to everyone who supports groups like LFL, both financially and through prayer. The work that we do together is so important and we will continue to fight and defend the sanctity of Life endowed to each individual by our Creator.
Join the pledge to pray for our country and an end to abortion:
Donate now to help defend Life across Texas!