I am an art lover, Jesus follower, Dr. Joseph Graham Fellowship alumna, and Stephen F. Austin State University graduate.  I am 21 years old and hale from a little town an hour south of Dallas called Italy.  Though the state of Texas is dear to my heart, I am currently living in Huehuetenango, Guatemala teaching English, Art, Bible, and Service classes to the 1st and 2nd graders at Colegio Bilingue Esperanza, a school dedicated to serving orphans and neglected children in Huehuetenango.  My main objective while I am here is to teach about Jesus and God's grace to the kids I encounter.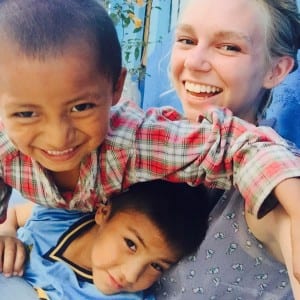 My top translator in my 1st grade class could not speak a word of English when he first arrived at the Fundacion Salvacion, a home for orphaned and neglected children in Huehuetenango.  Now, due to his persistence in practice, he is one of my most reliable students- despite entering my class later than the other students due to a family emergency.
My top artist in my 2nd grade class still struggles with his anger, but has increasingly turned to art to express his feelings.  When we first started the school year, he would not apologize after having an outburst.  Now he strives to do well and apologizes on the days when he needs a little grace.
The ball of sunshine in my 2nd grade class does not focus on anything much other than her newest joke, but has recently started submitting completed, thoughtful work.  This is huge progress for a child trying to process living in an unstable home environment.
These are the faces in my classroom.  These are the improvements that are made daily, little by little, that will change the course of these children's lives.
The walls of my classroom are covered in painted handprints from an art project gone hilariously awry.  The mountain breeze rolls in through the windows that stay open due to a lack of air-conditioning and fans.  This is the classroom where we celebrate birthdays, learn, pray, cry, fight, apologize, and grow.  Sometimes we have to make up birthdays for the children because we have no birth certificate and some cannot recall their own birthday- or even how old they are.
Teaching has been an experience that I will never forget.  Serving in Guatemala for the last six months been an invaluable experience.
From these children, I have learned the art of being happy when crisis happens.
I have learned what it looks like to daily give your all to your tasks and improve slowly but surely.
I have learned what it looks like to see family cycles of abuse be broken in Jesus' name.
I have learned what it looks like to love, without abandon, despite past encounters with hate.
I have learned what it looks like to love unconditionally.
I firmly believe that these children will change the world around them and be lights of truth and wisdom as they mature.
These kids only need what the rest of us need: Jesus.  They are not doomed by their circumstances; they have the ability to transform the world- and they will.
I have been blessed to be supported by my family and friends for the time that I have already spent in Guatemala.
Four months remain in the school year.  I cannot wait to see what else I will learn from these kids and I pray daily that these children will learn something about Jesus and his loving kindness from me and my classroom.  I am also excited to begin my second year of teaching this upcoming January.  This call to serve will require funds.  If you would like to help keep me as the 1st and 2nd grade English teacher for the children of the Fundacion Salvacion, please feel free to email me at allenaperry@gmail.com.  Any amount is a great blessing, and will be put to good use in my classroom.  Thank you for your prayers for the children and this ministry.