Y'ALL led Activism Day: Lobby in Austin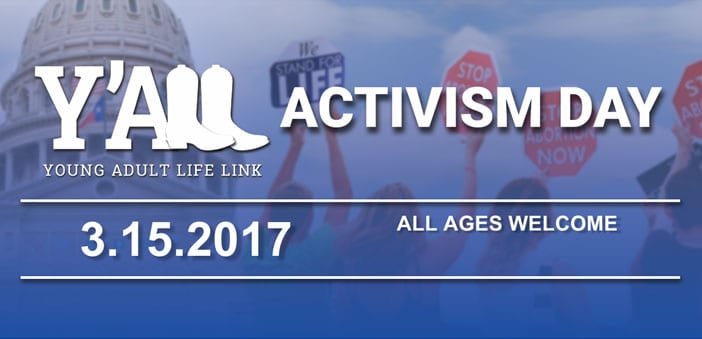 Texas Right to Life is excited to welcome people of all ages to Austin for the Young Adult Life Link (Y'ALL) Activism Day!
You will not only learn the path of a bill becoming a law from a firsthand perspective, but you will also participate in the legislative process.
A personal visit from a constituent stands out from mounds of emails and calls to legislators' offices. Your presence at the Capitol makes a tremendous impact on Pro-Life policies! Our legislative team will prepare you before meeting your elected official to help you effectively communicate the Pro-Life message your legislator needs to hear.
Join us as we tour the Capitol, learn from Texas Right to Life's full-time lobbying team, strengthen the Pro-Life community, and meet some of our state's greatest Pro-Life champions.
In order for your presence to be most effective, we want to help schedule meetings with your elected officials as soon as possible. Please RSVP using the form below so we can schedule these meetings and also arrange transportation to Austin.
Please note that the requested attire for the day is business casual.