Team LIFE Camp 2017
April 7, 2017

-

April 9, 2017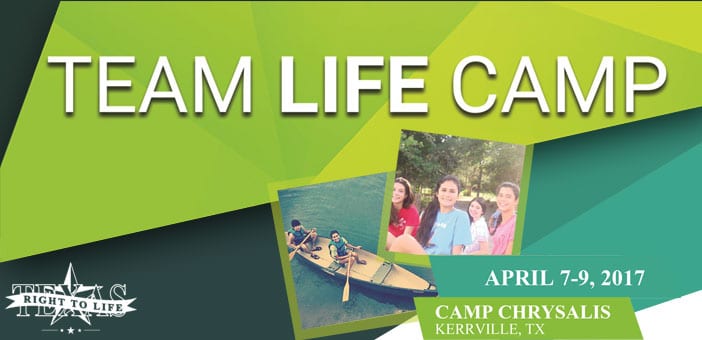 Are you in high school? Do you want to learn more about
Pro-Life issues?
Join us at Team LIFE, where you will meet people who are like-minded and become savvy on Pro-Life issues that affect you.
---
Team LIFE Camp April 2017
Camp Chrysalis, in Kerrville, TX
Friday, April 7-Sunday, April 9
Campers must arrive by 7 PM, at the latest.
Register here! 
Fill out all camp waivers here and email to [email protected]
Descriptions of Talks
Frequently Asked Questions | Camp Photos
Download the flyer to share!
Camp Schedule
How fun will it be to spend a weekend learning about Pro-Life issues?  Think swimming, games, sports, a campfire; S'mores and Oreos; movies (Pro-Life of course!) and popcorn.  This is all to prevent your brains from exploding with information on how abortion was legalized, what Planned Parenthood really does, who founded the world's largest abortion business, and what real options are available to women.
Pricing:
Individual Rate: $150
Sibling Rate: $100 (per subsequent sibling)
Registration deadline is Friday, March 3rd and space is limited…don't miss out!
---
Key Concepts Taught at Team LIFE
Pro-Life 101
Pro-Lifers are called to protect innocent human life from the moment of fertilization until natural death.
Life begins at the moment of fertilization, which occurs prior to implantation. Many abortion advocates now say that "conception" occurs after implantation, and thus, they justify abortions prior to the moment of implantation.
Abortion was legalized through the Supreme Court case Roe vs. Wade, on January 22, 1973. This case argued on the premise of "privacy."
Doe vs. Bolton is the companion case to Roe vs. Wade which defined when abortions could be committed.
The legalization of abortion has led to other assaults on innocent human life: stem cell research, euthanasia, human cloning, etc.
Margaret Sanger's Past & Present Influence on Planned Parenthood:
Margaret Sanger founded Planned Parenthood.
She resented the fact that her mother had so many children.
She was a proponent of eugenics, believing that only the "fit" should be allowed to procreate and that measures should be taken to ensure that there were no "unfit" people.
Planned Parenthood continues to give the "Margaret Sanger" award to individuals who support abortion.
The Loving Option of Adoption:
Many people (sadly, Pro-Lifers included) have a negative perception of adoption.
Expectant moms who are considering abortion need to better understand the rights they have, should they wish to find a loving adoptive family for their child.
It is vital that we present the option of adoption right alongside the option to parent when discussing alternatives to abortion.
Birth parents not only get to choose the adoptive parents, but they get to choose whether or not to have an open, closed, or partially-open adoption.
Birth parents may change their mind and decide to parent at any point, even shortly after their child is born.
Beginning of Life & Abortifacients
Science supports the fact that a new life with a unique set of DNA is formed at the moment of fertilization.
The term fetus is Latin for "young one."
Hormonal contraception is primarily designed to prevent fertilization; however, this does not always happen. Hormonal contraception is also designed to thin the lining of a woman's uterus; thus, in cases when fertilization occurs, implantation is often not possible. The newly formed fetus does not have a hospitable environment to continue developing, and is aborted.
How You Can Get Involved; Starting a Pro-Life Group
There are numerous Pro-Life events that take place annually across the nation in which you can be involved: 40 Days for Life, Life Chain, Pro-Life T-Shirt Day, Silent Day of Solidarity, March for Life, Pro-Life Cupcake Day, National Community Baby Shower, etc.
Volunteering at your local pregnancy center is a great way to be involved in protecting innocent human life.
It may be intimidating to start a Pro-Life group at your high school, but we are here to help you each step of the way!
Loving Those with Disabilities
Genetic testing is very common to determine whether a preborn child will have Down Syndrome or other disabilities.
A very large percentage of preborn children with Down Syndrome are aborted, because their parents are afraid of raising a child with disabilities.
The results of genetic testing have been proven to be wrong on many occasions.
As Pro-Lifers, we need to recognize the beauty of every innocent human life, including those who have a disability.
The HHS Mandate
The HHS Mandate requires all tax-payers to pay for abortions.
The panel that helped to write the HHS Mandate was largely composed of abortion advocates.
All tax-payers are required to pay for abortifacient contraception, even though they can "opt-out" of having this as a listed service under their plan. Even though the service is removed from the list, the buyer still has to pay for the abortifacient contraception.
Planned Parenthood, the nation's largest abortion provider, has played a large role in shaping the HHS Mandate.
In Vitro Fertilization (IVF)
Those lives conceived through in vitro fertilization are just as valuable as any other innocent human life.
We must understand the ethical issues associated with this more commonly accepted procedure.
The procedure is extremely dangerous for a woman as there are very strong hormones used to produce an abundance of eggs.
Once new lives have been formed, only the "strongest" are selected to be implanted in a woman.
The couple must choose to either freeze or discard the rest of their preborn children.
The process of freezing the preborn children will decrease the chances that these embryos will successfully implant and continue to develop at a later time should the couple choose IVF at a later time.
Preborn children conceived through IVF often experience many life-threatening complications even after birth.
Stem Cell Research/Human Cloning
Embryonic stem cell research takes an innocent human life, and there have been absolutely no successes from this type of research.
Adult stem cell research does not take an innocent human life, and has successfully cured over 70 diseases.
The process of human cloning destroys an innocent human life, and leads to other major ethical concerns.
Communicating with those with Opposing Views
The way in which we communicate our message is extremely important if we wish to change hearts.
We must always be compassionate in sharing the truth and remember that many who are for abortion have been hurt either directly or indirectly by abortion.
Our nonverbal communication, i.e., body language, is as equally important as the words we speak.
Through practice, we can better communicate with others who believe that abortion and other assaults on innocent human life are acceptable.
Euthanasia
There are different types of euthanasia. A person may willingly choose to have his life ended, or a doctor can choose to end the life of a person without his knowledge.
A form of euthanasia has already been legalized in OR, VT, WA, and MO. Other states in the US are trying to legalize euthanasia.
Life must be valued through the end of life, and allowed to end naturally.
Good Bill vs. Bad Bill
There are many bills which can be proposed to help save innocent human life, but not all bills meet the criteria to be "good" Pro-Life bills.
Good Pro-Life bills

Make a true, measurable, and immediate impact on reducing the number of lives lost to abortion or other assaults on Life.
Use Pro-Woman, Pro-Life language that emphasizes the humanity of a person, thereby causing people to change their hearts and minds to a Culture of Life, which prevents the media from twisting the intent of the bill.
Have a long-term effect of attacking Roe vs Wade and ending legalized abortion once and for all.
How Pro-Life is Texas? What is Lobbying?
Texas has passed strong Pro-Life laws that ensure that couples are more fully informed prior to choosing abortion.
Other Pro-Life laws require that abortions facilities have to-the-standard regulations of ambulatory surgical centers.
Still other Pro-Life laws have guaranteed funding to organizations that encourage Life: pregnancy centers, maternity homes, and adoption agencies.
Lobbying is the process of educating legislators on what each bill will actually achieve should it pass, and garnering support for Pro-Life bills.
The Impact of Choosing Life
Each of us has a duty to defend innocent human life.
We often don't see the fruit of our work, but we must trust that God will water the seeds we plant.
It is important to set goals for how we wish to be involved in protecting Life.
---
Here's what past campers had to say about Team LIFE:
" "It's so amazing to be around people with the same goal in mind. I feel like maybe America has a chance!" – Shelby W.
""I am more excited to be openly Pro-Life. At first, I struggled with my image, but that isn't important." – Daniel R.
""I enjoyed discussion time, because different people have views that I had never thought about." – Samantha S.
""My favorite part was being able to not only learn about the topics, but to practice talking about them!" – Rhema G.
""I wouldn't change a thing about this camp, because I am in awe of how amazing it is! Don't change!" – Caitlyn W.
The biggest problem campers had?…the weekend wasn't long enough!
---
Frequently Asked Questions
What kind of supervision will there be?
There will be at least 1 adult present throughout the entire weekend for every 5 campers including a minimum of two full-time employees of Texas Right to Life. Camp staffers are required to have at least one year of college, and have experience leadine or greatly assisting with the Pro-Life group on their campus. Texas Right to Life has either worked directly with each counselor, or the individual comes highly recommended from other students with whom we have worked.
What measures are implemented to ensure the safety of the campers?
Background checks are run on every adult (counselors, speakers, and campers who are 18) who stays at the camp overnight. Additionally, all adults are required to take a child protection training prior to staffing or assisting with camp.
Males may not be alone with females at any time (and vice versa). Should a camper need to speak with someone on staff about a concern, at least two people (one female and one male) will be present.
What does the registration fee cover?
The registration fee covers meals and lodging for the camp. Students do not need to bring money for anything at camp.
Where will I stay?
The camp will be held at Camp Chrysalis, in Kerrville, TX. All campers, employees and representatives of Texas Right to Life will stay in on-site dorm-style bunkhouses, with separate rooms for males and females.
What does the campsite look like?
It is gorgeous; visit the website!
Will I leave the site at any point during the camp?
No. All presentations and activities will take place at the campsite. Leaving the site will not be permitted throughout the weekend.
Will there be a prayer service or Mass on Sunday?
Yes. We invite a priest to say Mass for all who are Catholic. Everyone who is not Catholic is invited to a prayer service led by some of the camp counselors.
While campers do not have to participate in either, they are required (for safety reasons) to be in the room where the prayer service or Mass is being celebrated.
What can I expect?
Expect to have fun and learn a lot! Every day is balanced with speakers (2-4 per day), interactive small group discussions, Pro-Life movies, and team-building activities. You will learn how to start and develop a group at your school from experienced staff and college students, and you'll leave inspired to get more involved in saving lives!
Will there be graphic images or information shared?
We will have one discussion on how abortions are committed. We will discuss the different abortion procedures, and refer to diagrams and/or videos. Any camper who wishes to sit out during this session is permitted to do so.
What do I need to bring?
Come prepared with bedding (sheets, blanket, pillow), towels (for showering and for swimming), and toiletries.
What should I wear?
Check the weather before attending camp! Attire is casual and comfortable. Shorts and t-shirts are fine. While we'll be indoors for talks, and outdoors for games. Please wear modest attire, and not short-shorts for guys ore girls. If planning to swim during free time, boys and girls must each wear swimwear that covers the entire torso, down to mid thigh. (You can easily wear a gym shirt or gym shorts over a regular swimming suit.) There is a low ropes course; you must wear tennis shoes for this.
Can I bring my cell phone and other electronic devices?
Cell phones may be used during breaks; however, they must be left in the cabins during presentations and activities. There won't be time to use other electronic devices.
You may contact Texas Right to Life staff (phone numbers will be emailed prior to the start of Team LIFE) should you need to reach your child during the day.
If you have questions not answered here, please contact us at [email protected]